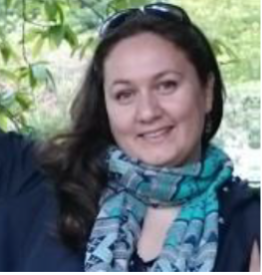 Dr Elena Iuliana Măciucă is a veterinary graduate with a PhD in Veterinary Microbiology and several years' experience working in a Veterinary Microbiology Laboratory.
After obtaining the Master's Degree in Laboratory Diagnostics of Infectious Agents, Iuliana enrolled on a PhD in Microbiology which was awarded in 2014. The PhD project, involved molecular characterisation of antimicrobial resistance determinants and molecular typing of Escherichia coli. Her project focused on investigating Extended Spectrum Beta-Lactamase (ESBLs) producing Enterobacteriaceae obtained from chicken faecal samples and abattoir workers, to evaluate if chickens may be an infection reservoir for the food chain. Additionally, it gave an insight into the threat of ESBL-producing Enterobacteriaceae in broiler flocks. This work was based in Iasi, Romania with periods of training at Liverpool Vet School, funded by a British Society for Antimicrobial Chemotherapy Overseas Scholarship.
Currently Iuliana is working in the Veterinary Microbiology Diagnostic Laboratory, University of Liverpool and here she has considerable responsibility and opportunity to work with undergraduate and postgraduate students as well as her other roles in bacteriology diagnostics and research.
In 2022, Iuliana started her ECVM residency, with Dr. Dorina Timofte as her supervisor in the IVES, School of Veterinary Medicine, University of Liverpool, United Kingdom.