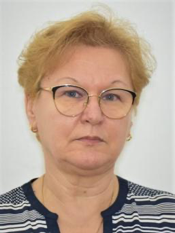 Prof. Doina Danes, Ph.D., CM-AAFS
Doina Danes graduated at University of Agronomic Sciences and Veterinary Medicine of Bucharest (USAMVB), Romania, in 1981. She started as veterinarian in the poultry industry for a short time, at the same time being selected to carry out research at the Pasteur Institute in Bucharest, where she was granted (1988) as scientific researcher ; until 1989 she carried researches to optimize bio-products used in poultry and pig industry and for fur animals. In 1989 she began teaching activity to the USAMVB in Infectious Diseases Chair, the discipline in which he carried out his entire didactic activity, going through the stages up to the degree of teacher, still held, and she launched research in his doctoral thesis, defended in 1999. In 2005 she was entrusted, by the Ministry of Education and Research, as "doctoral supervisor". She participated and/or led national and international research projects, in the field of diagnosis and control of infectious diseases of animals but also in the field of training of laboratory staff.
The main topics that are the subject of his interest are the clinical microbiology, particularly newly diagnostic tools, emerging veterinary pathogens/one health approach, the antimicrobial resistance, the infectious diseases control. She is member of the AEEMA (Association pour l'Étude de l'Épidémiologie des Maladies Animales), she's corresponding Member of the Academy of Agricultural and Forestry Sciences "Gheorghe Ionescu Sisesti" and she's member (or leading) of some expert groups of the National Sanitary Veterinary and Food Safety Authority (NSVSA) on infectious disease topics (Avian Influenza, African Swine Fever, Peste de Petits Ruminants, Newcastle Disease) and she's leading the Scientific Council of NSVSA.